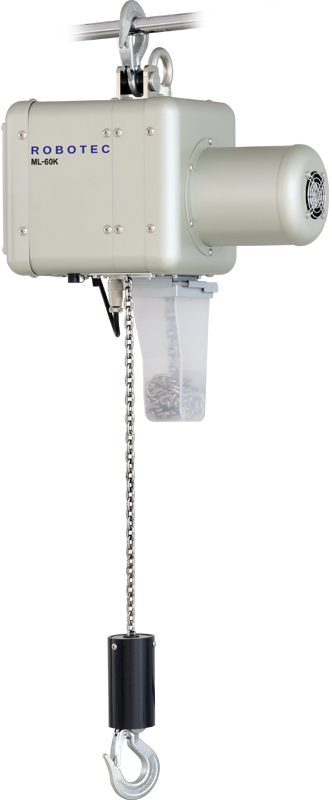 About Moon Lifter


An electric balancer that lifts a workpiece of 10 to 1500 kg and moves it with little strength. Operates at AC100V or AC200V with load sensor and servo motor. It supports raising and lowering of workpiece while constantly detecting the force and position. The MoonLifter balances the weight of objects by a built-in servo motor in order to handle a heavy object as if its weight is Zero. You can precisely set a heavy objet with no effort, and more over it doesn't make any vibration. The Chain is made out of copper/electroless nickel plating and the breaking load is 2t. The end of chain has an eye hook shape as standard, however several different pieces of lifting equipment can be set for different requirements. The lifting range supports up to 4m. There is also a dustproof type that is often requested in the field such as casting, machining, and welding, and a HACCP type that uses stainless steel for the main body and upper and lower hooks, and uses lubricating oil for dust pans and food machinery.
The bottom is the eye hook, but we also have a grip that is perfect for the work.
"Moon Lifter" is a registered trade mark of Robotec Inc..


Easy to plug in
All you need is a power supply of AC100V or AC200V!! No pneumatic supply or piping is required.


Safety functions
You can tune upper / lower limit, speed, safety settings, etc. that suit the user.
It is pre-installed with speed limit, position limit, and braking function in case of emergency stop.
Speed limit and position limit can be set during lifting and lowering respectively.
When approaching a predetermined position, the speed will be limited and will decelerate. The chain is held by the brake when the power is off or stopped during emergency. Prevents the workpiece from falling.


Operability
Balance control of the workpiece by measuring the shaft torque and rotation speed of the motor and adjusting the output. It can be moved with a light push regardless of its weight.
Since it senses human touch and assists, it realizes stress-free and smooth movement. An "inertia canceller" that cancels the inertia of the movement of the work is equipped as standard. It is now possible to handle super heavy objects more safely.
In addition, you can work with both hands in the balanced state.


Precision
Balance control of the workpiece by measuring the tension and speed of the chain. Supports precise assembly regardless of the weight of the work.


Image and operation procedures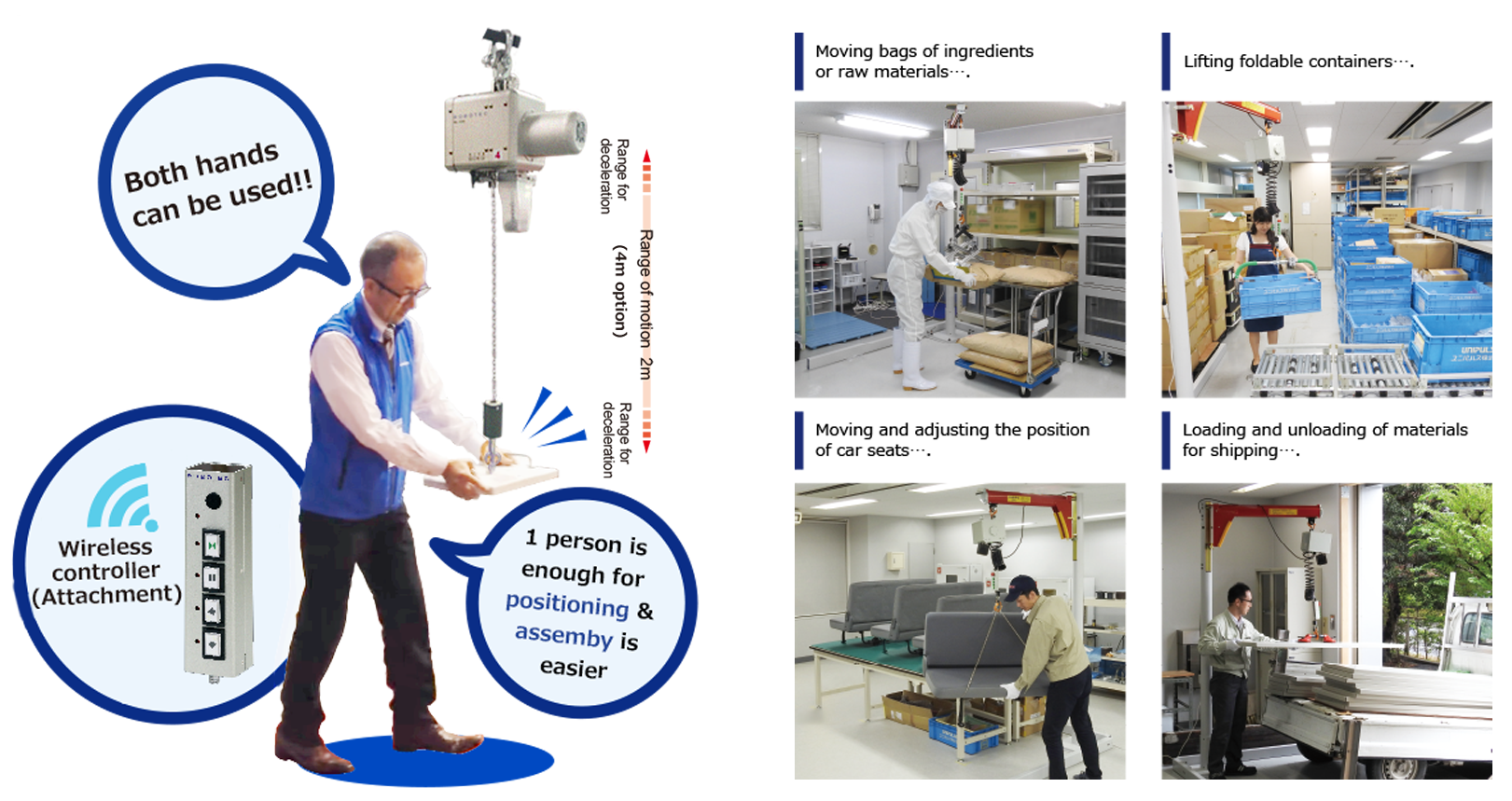 Sold separately
Console unit which can tune Moon Lifter "ML console"
Can switch from 4 operational mode (A,B,C,D) on Moon Lifter. Settings are customizable such as lifting distance limit, deceleration limit, etc. These parameters can also be saved in SD card as backup.
Can switch from 4 operational modes (ABCD). Furthermore, it can be customized to fit the working site.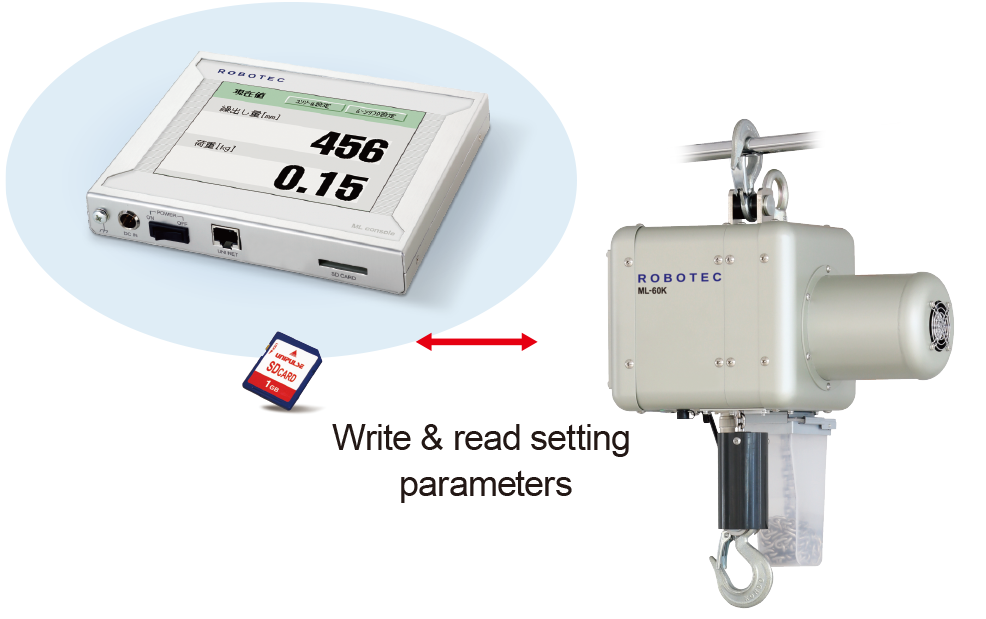 Change setting of movable range and deceleration range
Don't want workpiece to hit my leg!
I want to move it slowly at head level!
Set the speed and acceleration to suit your needs.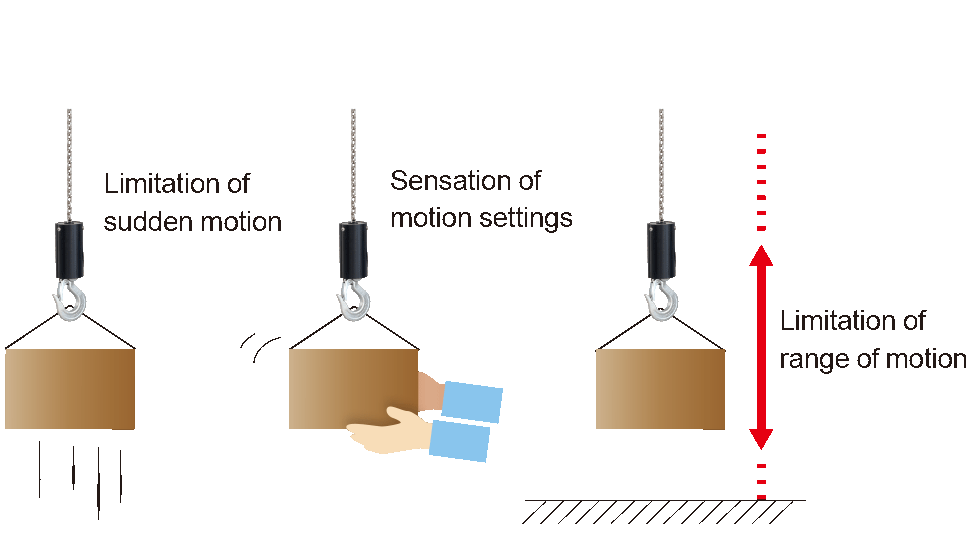 Assist function (Support OFF setting)
Easier for unloading of goods
Accumulation display option
You can add up the weight of the suspended load, measure the number of times the it is lifted and unloaded, and perform number of counts.
・ Checking the quantity received during warehouse work
・ Checking the cumulative shipping weight during shipping work
・ Prevention of overload and weight check during loading and palletizing work
・ Check if packaging is done by cumulative weight
・ Check the cumulative weight that are weighed multiple times


External I/O option
Moon Lifter is now automated! Newly developed!
Introducing [External I/O option].
Input/output signals (4 each) are usable for coordination with PLC or robots! [Moving up command] & [Preset weight or tare] are available as external input, then [Notify ML status] & [Notify irregularity] as external output. It is useful for coordination with robots or emergency countermeasure.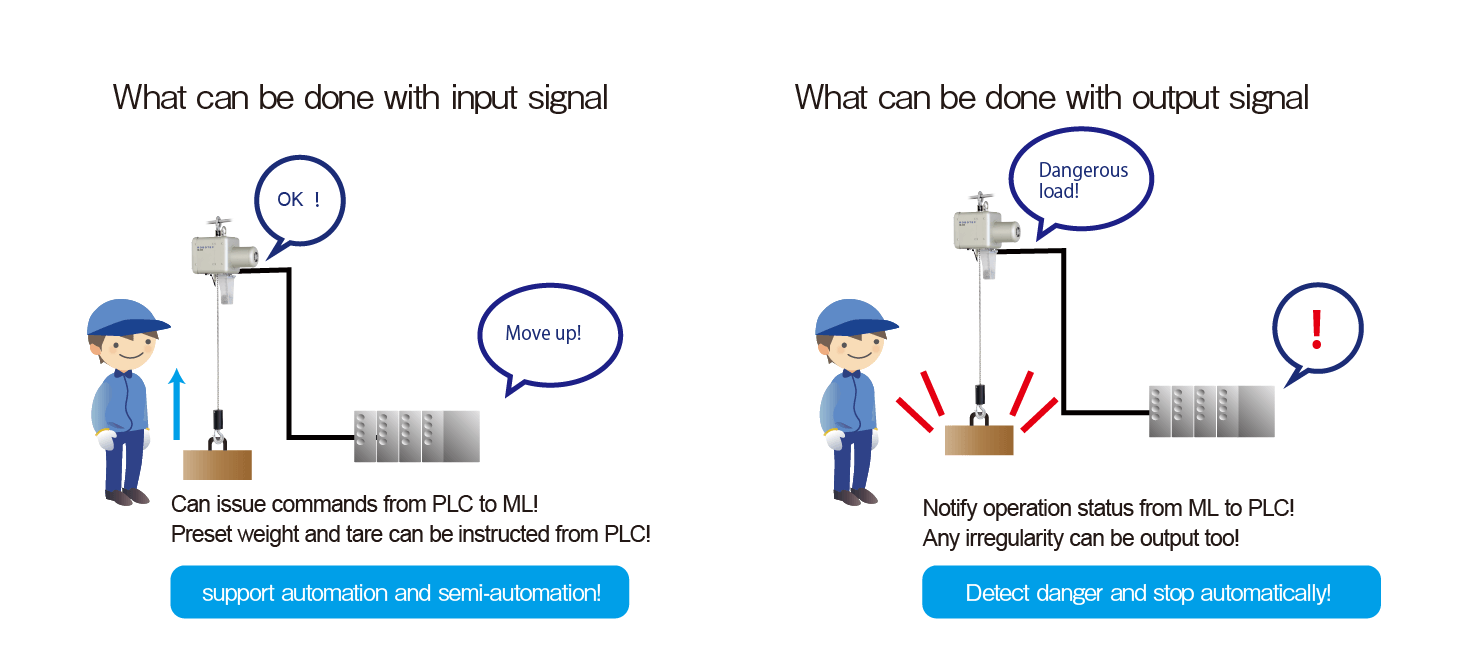 Coordinated motion with robots
Support small-size robots using electric balancer, able to lift up heavier weight! (No need bigger size robot)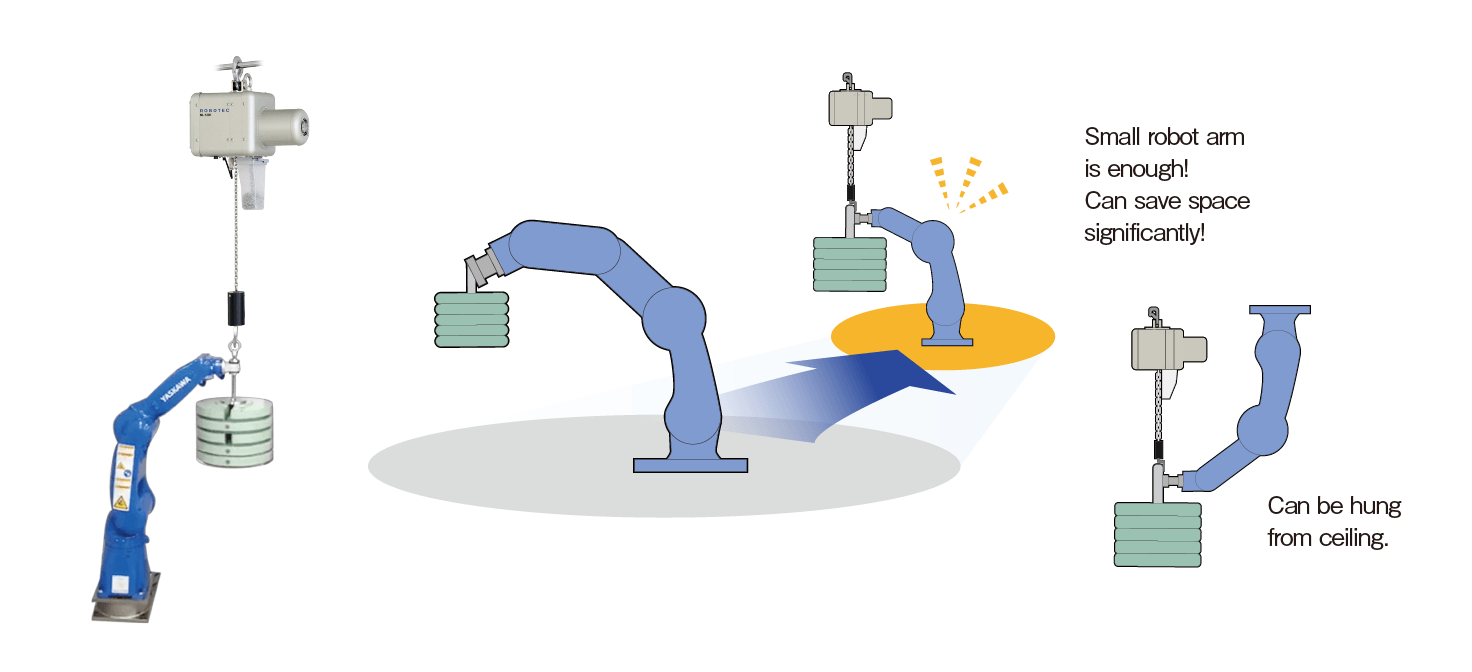 Parallel operation option
Even a long and heavy objects can be handled by an operator, and it can be kept in balance all the time. (By changing the setting, each balancer can be operated separately as a stand-alone device as well.)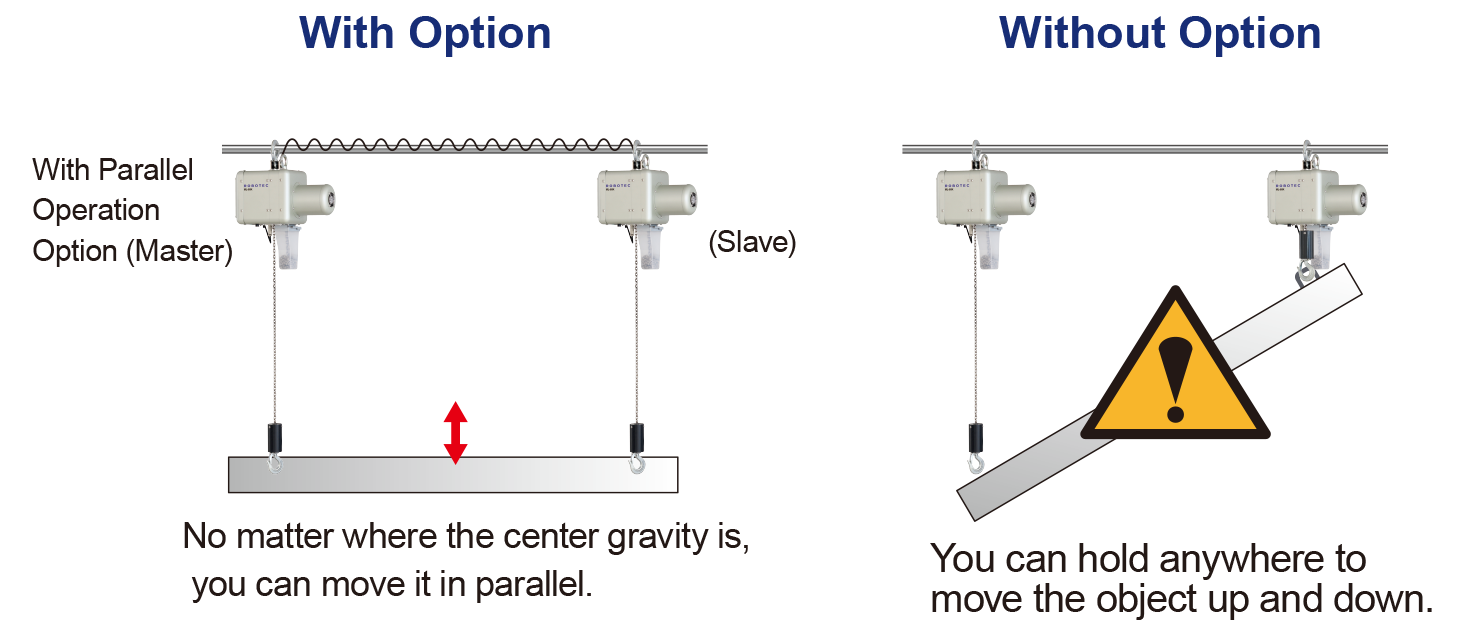 Weight display option
Indicate the weight value on the display unit in real time.
Able to check the weight just by hanging the load using Moon Lifter.
It is useful at field sites to verify weight of transferred parts, misassembly of parts, overload error, etc.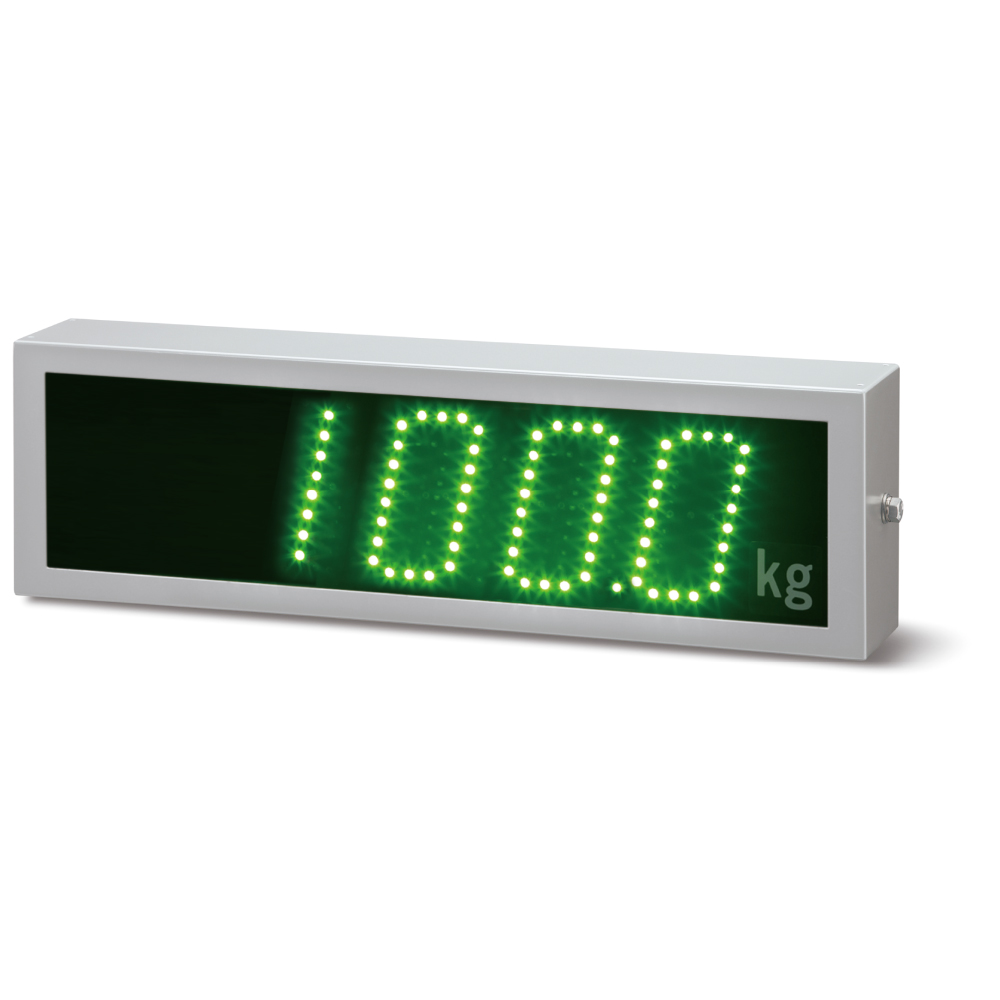 Please confirm the following points


Size: ○○W×○○H×○○D mm
Weight: ○○kg
Range of motion in vertical and horizontal direction.




Moon Lifter installation
This is an example of installing a Moon Lifter. It that can be installed anywhere. You can use it immediately just by attaching it onto a hook.
Lifting attachments of Moon Lifter
Below is an example of lifting attachments.
We suggest suitable attachments based on lifting/lowering of workpiece, pouring materials, inserting workpiece, etc.
Main features
ML-30K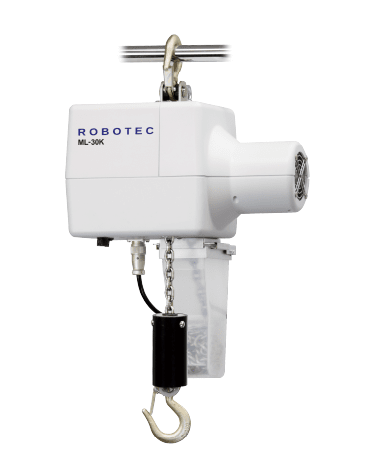 Maximum lifting load: 30kg
Maximum lifting/lowering speed: 500mm/s
Body weight: approx. 8.5kg (including the chain and hook)
Chain: diameter 4 × pitch 12 mm (electroless nickel plating)




ML-60K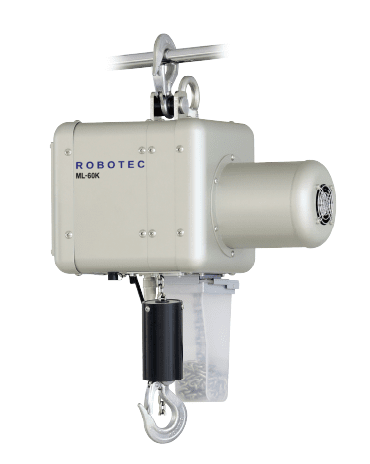 Maximum lifting load: 60kg
Maximum lifting/lowering speed: 500mm/s
Body weight: approx. 20kg (including the chain and hook), approx. 23kg (MLP-60K/MLF-60K)
Chain: diameter 4 × pitch 12 mm (electroless nickel plating)
ML-120K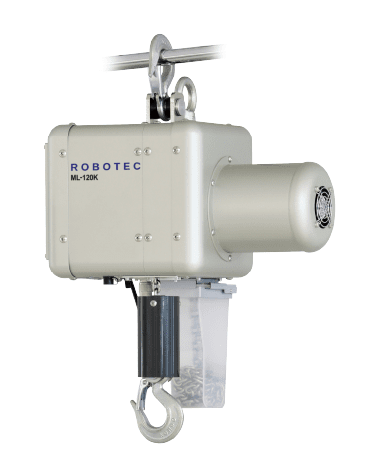 Maximum lifting load: 120kg
Maximum lifting/lowering speed: 250mm/s
Body weight: approx. 20kg (including the chain and hook), approx. 23kg (MLP-60K/MLF-60K)
Chain: diameter 4 × pitch 12 mm (electroless nickel plating)




ML-240K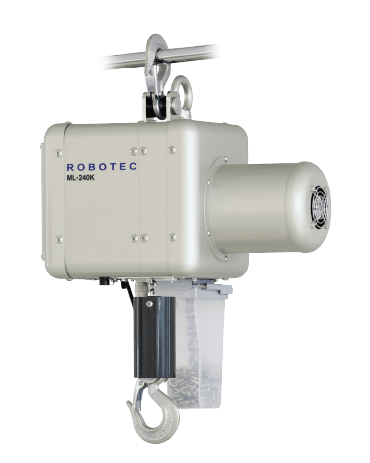 Maximum lifting load: 240kg
Maximum lifting/lowering speed: 125mm/s
Body weight: approx. 20kg (including the chain and hook), approx. 23kg (MLP-240K/MLF-240K)
Chain: diameter 4 × pitch 12 mm (electroless nickel plating)
ML-480K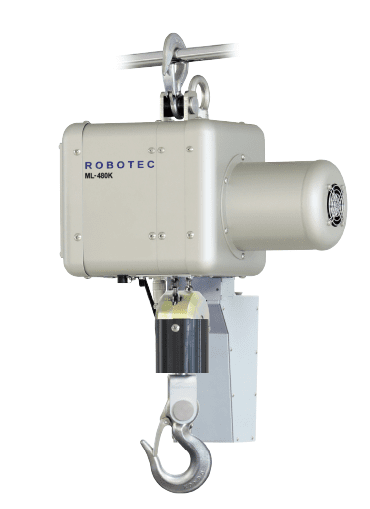 Maximum lifting load: 480kg
Maximum lifting/lowering speed: 62.5mm/s
Body weight: approx. 23kg (including the chain and hook), approx. 26kg (MLP-480K)
Chain: diameter 4 × pitch 12 mm (electroless nickel plating)
MLH-480K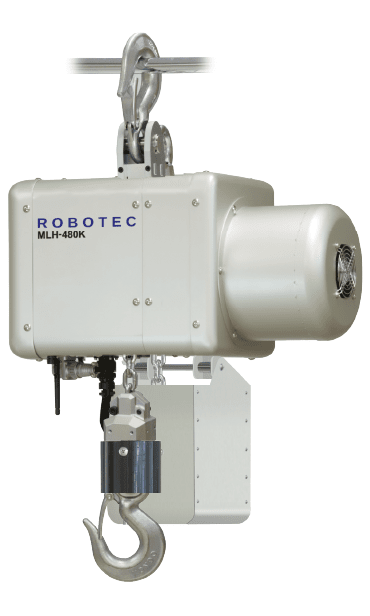 Maximum lifting load: 480kg
Maximum lifting/lowering speed: 250mm/s
Body weight: approx. 56kg (including the chain and hook)
Chain: diameter 8 × pitch 23 mm (electroless nickel plating)
MLH-960K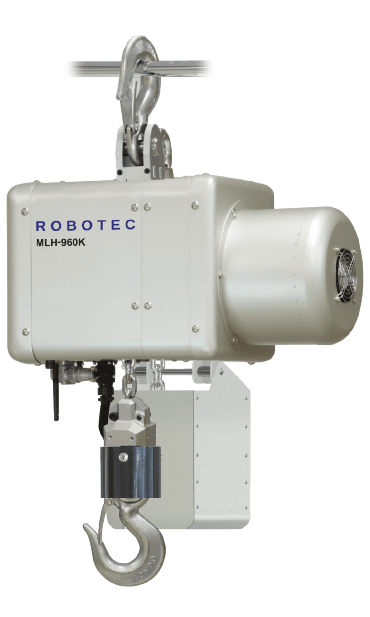 Maximum lifting load: 960kg
Maximum lifting/lowering speed: 125mm/s
Body weight: approx. 56kg (including the chain and hook)
Chain: diameter 8 × pitch 23 mm (electroless nickel plating)
MLH-1500K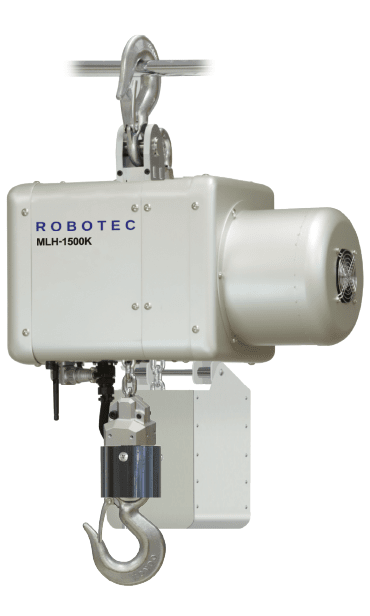 Maximum lifting load: 1500kg
Maximum lifting/lowering speed: 100mm/s
Body weight: approx. 56kg (including the chain and hook)
Chain: diameter 8 × pitch 23 mm (electroless nickel plating)